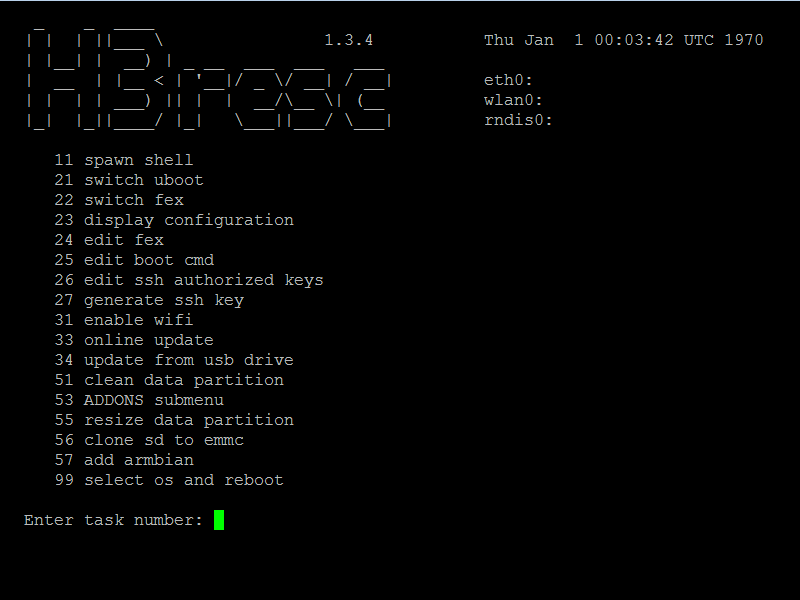 About H3resc:
H3resc is a specialized rescue menu built for H3Droid which can be reached by booting your H3Droid device into rescue mode.
Rescue mode can be accomplished by pressing 'space bar' in uboot on Allwinner H3 Devices during the boot process.
You will see U-boot announce it is booting into H3resc and then you will be greeted by the above menu.
11 - Spawn shell - Spawns a sh shell with busybox providing access to the boot partition on the card
21 - Switch uboot - Allows you to choose the uboot for your board - just like during installation.
22 - Switch fex - Allows you to choose the fex for your board - just like during installation.
23 - Display configuration - Allows you to set display resolution so it is retained each boot
1/ HDCP_toggle - This toggles DVI compatability mode
You need this enabled if:
a. You want to play DRM Content
b. If you install Armbian and the color black is green
2/ PAL_tv - Used for a PAL TV connected by CVBS
3/ NTSC_tv - Used for a NTSC TV Connected by CVBS
4/ 480p - set display resolution to 480p (720x480)
5/ 720p - Set display resolution to 720p (1280x720)
6/ 1080p - Set display resolution to 1080p (1920x1080)
7/ 800x480 - Set display resolution to 800x480
8/ 1024x600 - Set display resolution to 1024x600
9/ 1024x768 - Set display resolution to 1024x768
10/ 1280x1024 - Set display resolution to 1280x1024
11/ 1360x768 - Set display resolution to 1360x768
24 - Edit fex - advanced feature - Allows you to edit the fex file you currently have in use to make adjustments
(Change settings such as 'DRAM' or advanced display settings)
25 - Edit boot cmd - advanced feature - Allows you to edit the boot.cmd which is used to tell uboot how to start the system
26 - Edit ssh authorized keys - Allows you to add SSH key to H3Droid
27 - Generate ssh key - Allows you to generate an SSH key pair
31 - Enable wifi - Enable WiFi network in H3resc
33 - Online update - If you have ethernet plugged or wifi enabled and an internet connection this will check our servers for any new updates to H3Droid
34 - Update from USB drive - This allows you to upgrade / downgrade H3Droid from a USB drive with the desired release package on it
(offers the ability to upgrade / downgrade without losing your apps and settings)
51 - Clean data partition - Does just what it sounds like, wipes all user data from Android (accounts, settings, etc)
53 - ADDONS submenu - Enable / disable latest gapps, superuser or install spmc/kodi 16.4.2
55 - Resize data patition - Allows you to resize the H3Droid data partition
56 - Clone sd to emmc - Clone the SDcard you are currently booting from to the eMMc on your device
57 - Add Armbian - Install Armbian onto currently booted device (creates a 4th partition and installs Armbian there)
99 - Select OS and Reboot - Select which OS to reboot to on next boot and reboot the system
(sets this as the default boot option till changed in H3resc again)
1/ H3Droid - Reboot and boot to H3Droid
2/ H3resc - Reboot and boot to H3resc
3/ Armbian - Reboot and boot to Armbian (if installed)